Common and Possible Side Effects
Prescription opioids affect everyone differently, but there are side effects commonly connected with this group of medicine. In fact, 80% of people who take opioids for three or more months will experience a negative side effect.¹
Side effects include:²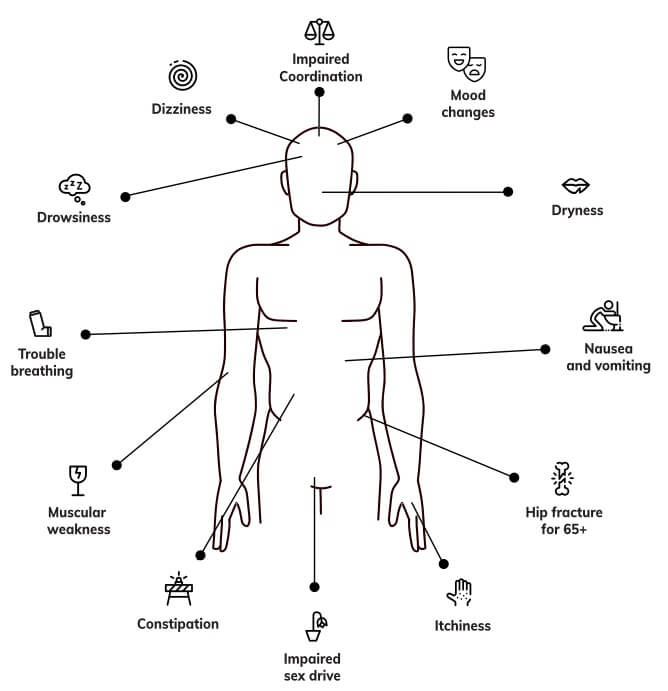 If you are experiencing any side effects, or if you are concerned, talk to your doctor or pharmacist. It's important to not stop or change your medication suddenly.
Head: impaired coordination, anxiety, depression
Eyes: Drowsiness
Mouth: Dryness
Skin: Itchiness
Lungs: Respiratory depression (including increasing sedation +/- slower or shallower breathing)
Body: Reduced immune system
Bones: Increased risk of fractures
Muscular: Weakness, loss of muscle mass
Sexual organs: Impaired sex drive, infertility
Lower stomach: Constipation
Upper stomach: Nausea, vomiting
It's also important to consider the potential risks associated with impaired mental function, such as a 42% increased risk of road trauma.³
If you're aged over 65, research also shows your risk of a hip fracture more than doubles when you start taking an opioid and remains high while you take it.⁴
For some, longer-term opioid use can lead to tolerance as well as a condition known as opioid-induced hyperalgesia, lowering the body's pain threshold and actually increasing pain.⁵
Watch Garry tell his story about his experiences with prescription opioids.
The dangers of combining opioids with other drugs (including alcohol) can be serious, even deadly. For more information about combining your opioids with other medications and alcohol, click here.